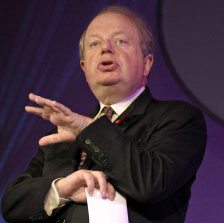 'John's expertise as a speaker commanded and kept the audience's attention.'
Centaur
EXTERNAL LINKS
JLA is not responsible for the content of external websites.
WIKIPEDIA
BIOGRAPHY
Probably the only journalist to be doorstepped by a politician, John Sergeant was famously interrupted mid-broadcast by Margaret Thatcher. She emerged from the Paris Embassy, grabbed his microphone and declared her participation in the Conservative leadership ballot. The famous handbagging won John his place in television history and a Press Guild Award for the most memorable outside broadcast.
As memorable as it was, that incident was just one of many in the course of a 30 year career at the BBC, where John became Chief Political Correspondent. As a war reporter, he covered all the major trouble spots, including Northern Ireland, Vietnam, Rhodesia and the Middle East.
After leaving the BBC, and a spell as ITN's Political Editor, John turned to writing. His memoirs, Give Me Ten Seconds, led to a nationwide tour of a hilarious one-man show. His witty analysis of Thatcher's life and career, Maggie: Her Fatal Legacy, became a best seller.
Now a freelance journalist and broadcaster, John reports for BBC1's The One Show, has hosted Have I Got News For You?, and is a regular on many Radio 4 panel shows. John bravely defied his years when he became a hugely popular contestant on Strictly Come Dancing, with unexpected success.
John displays his unique wit and keen sense of the absurd, whether his subject is contemporary politics or his experiences in combat zones. He has also been known to tackle his pet hates, which include the television series Casualty, 4x4 cars and...er...buying shoes.
Print
© Copyright JLA: All Rights Reserved
AFTER DINNER SPEAKERS
£5K TO £10K
PRESENTERS
£5K TO £10K
YOU MAY ALSO BE INTERESTED IN...
MEMBERS' INTERESTS
When he was 21, Gordon Brown won a Daily Express competition for 'A Vision of Britain in the Year 2000.' One of his first acts in office was to insist that the font for No.10 emails be changed from Times New Roman 12 to Arial 14.

Carlsberg Special Brew was created especially for Winston Churchill, as Denmark's thank-you for Britain's help during World War II.

The door to 10 Downing Street has no keyhole. It can only be opened from the inside.

In a study of common characteristics among Prime Ministers, Lucille Iremonger identified a childhood deprived of affection; extreme self-discipline; religious zeal; aggression, timidity and overdependence on the love of others.

The language used in the Chamber must conform to a number of rules. Past and present House of Commons Speakers have taken exception to: blackguard, coward, git, guttersnipe, hooligan, rat, swine, stoolpigeon, traitor and fuck.

Briefcases are not allowed in the Chamber. The reading of newspapers, magazines and letters is also prohibited. Eating and drinking (except for discreet sips to ease the voice) is not permitted, in contrast to previous centuries when visitors observed Members sucking oranges and cracking nuts.

The police shout "Who goes home?" when the House rises. This is an invitation to Members to join together in bands to cross what were the dangerous fields between Westminster and the City, or to hire boats homeward on the Thames.

A Member wishing to raise a point of order during a division was, until 1998, required to speak with his hat on. Collapsible top hats were kept for the purpose. Snuff is still provided, at public expense, at the doorkeeper's box at the entrance to the Chamber.

Print
ALSO SEE OUR...