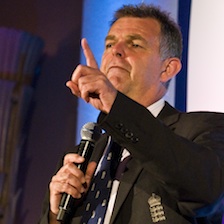 "Geoff was a perfect fit. We had excellent feedback from guests, and we are delighted."
Vodafone
WIKIPEDIA
BIOGRAPHY
For his considerable sins, Geoff Miller has been appointed Chairman of Selectors for English cricket. As a player he scored an impressive 14,000 runs and took over 1,000 first class wickets. He captained Derbyshire, played for Essex and vice-captained the national side. He even spent a brief period with Natal in South Africa.
Off the field, Geoff's greatest attribute was his ability to reduce his team-mates to stitches with his dry northern humour. He is now one of the funniest speakers on the circuit, with a stream of hilarious anecdotes. There are wild nights in the West Indies, tales of misadventure in Australia and rivalries nearer home. Geoff also enjoys taking part in TMS theatre shows, with Graham Gooch and Mike Gatting.
What distinguishes Geoff from most sporting after dinner speakers is his ability to reach audiences without an ounce of interest in sport. His timing and self-deprecating turn of phrase mark him out as a classic raconteur.
Print
© Copyright JLA: All Rights Reserved
AFTER DINNER SPEAKERS
£2.5K TO £5K
PRESENTERS
YOU MAY ALSO BE INTERESTED IN...