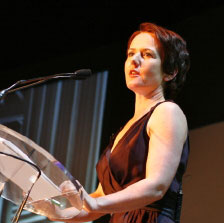 "Professional, approachable, pacy, great to work with and brilliantly funny."
Independent Publishers Guild
EXTERNAL LINKS
JLA is not responsible for the content of external websites.
WIKIPEDIA
BIOGRAPHY
The former host of Saturday Live has been ranked amongst the top ten British voices in a poll conducted by Radio Times. Over the weekend breakfast table millions tuned in to hear Fi Glover invite her guests to own up to peculiar habits, share 'inheritance tracks' and sometimes confess dark secrets - often becoming the subject of on-the-spot poetry. Fi herself admits to being reduced to tears by Lord Archer.
Fi presents Generations Apart, a landmark series for Radio 4, which will track the fortunes of two generations over three years.
Fi made her name with Radio 4 listeners on the Sunday morning show, Broadcasting House. She has worked across the spectrum of network output, with presenting credits from How to Survive in the 21st Century to The Travel Show. It was this that sparked her first book: I am an Oil Tanker - travels with my radio.
In 2009 Fi chaired the judging panel for the Orange Prize for Fiction. She has also hosted awards celebrations for the publishing and planning industries, and the Royal Institute of British Architects. Described by The Guardian as 'velvet-voiced', Fi combines a deliciously quick wit with an ability to communicate on the same level as her audience - be they enjoying breakfast or a post-conference dinner.
Print
© Copyright JLA: All Rights Reserved
AFTER DINNER SPEAKERS
£2.5K TO £5K
PRESENTERS
£2.5K TO £5K
YOU MAY ALSO BE INTERESTED IN...