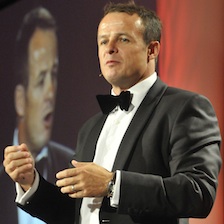 "He really made our awards ceremony come alive - we had nothing but positive feedback on him."
Energy Institute
WIKIPEDIA
BIOGRAPHY
As flexible on the rugby field as off it, Austin represented both England and the British & Irish Lions. He then became equally well known for his fancy footwork on Strictly Come Dancing.
Austin's long career as a utility back with the Leicester Tigers was punctuated by injury, but it didn't stop him winning two European Cups for his club and 51 caps for his country. Since his retirement Austin has worked in banking and provided punditry for the BBC and ESPN, as well as coming very close to winning the ballroom crown with Erin Boag.
Austin's approach to challenges is as relevant to business as it is to sport: know more, prepare more, push harder. In motivational speeches he talks about creating a winning culture, living the brand, and establishing a flexible framework which designates roles to those who need them but liberates those who don't. Most importantly, Austin argues that success is not just about winning - it's knowing how you won so you can develop the winning habit.
After dinner 'The Leicester Lip' may refer to the ins and outs of a Woodward pep-talk, and why Martin Johnson should never use the back seat. As in his book, Me and My Mouth, Austin talks frankly and wittily about his time in rugby. Ever reluctant to hang up his sequins, he might also lift the lid on the Strictly Tour - where he achieved even more success than on television.

Print
© Copyright JLA: All Rights Reserved
SPEECH TITLES
Liberating your people to succeed
FEE BANDS
CONFERENCE SPEAKERS
£5K TO £10K
AFTER DINNER SPEAKERS
£5K TO £10K
PRESENTERS
£5K TO £10K
YOU MAY ALSO BE INTERESTED IN...
Q&A
Q: How can a business best rebuild confidence?
A:There are two things you can't fake in sport or business: momentum and confidence. When you find yourself on the back foot, it's vital to go back to solid ground - 100% calls - and start to rebuild.

Q: How do you get everyone to pull together?
A:The most successful are always motivated by achievement rather than money. I was the highest paid player, but it was never what drove me.

Q: How do you get the best out of people?
A:To win you have to know more, prepare more and push harder - literally expend more energy than your competition. Remember, if winning were easier it would be far less enjoyable.

Q: So it's not about conformity?
A:No. For example, any culture will containRugby is like business. It relies on discipline, but must also make space for 'creative inventiveness.' Part of the leader's role is to make sure everyone is flexible, even in their thought process.

Print
ALSO SEE OUR...