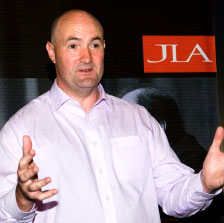 "We use the Polar Bear Pirates concept daily to motivate ourselves."
HSBC
EXTERNAL LINKS
JLA is not responsible for the content of external websites.
BIOGRAPHY
Adrian Webster is a powerhouse on motivation and team-building. His presentations are full of tips for all those striving for success or having to cope with change. Neither a text book theorist nor one of the 'I've climbed Everest so you can too' brigade, delegates relate to Adrian because he comes from a working environment just like their own.
With a warm and lively sense of humour, Adrian homes in on easily recognisable characters that get in the way of progress - from 'Bloaters' (boasting, lazy, obnoxious and tediously egotistical reptillian saddoes), to 'Neg Ferrets' (little warriors of doom). All these characters are featured in his hugely successful book, Polar Bear Pirates and Their Quest to Reach Fat City.
The son of a coal miner, Adrian started out as a police officer in Bristol dealing with everything from traffic duties to riot control. He left to establish a dairy business, but never content to stand still he then had a stint as a radio presenter before moving into IT. Initially as sales manager, he moved into training, recruiting and driving 150 staff to deliver the best results in the sector.
Alongside keynote speeches Adrian has developed Polar Bears Live - a series of training programmes for both sales and non-sales delegates. Teaming up with Blue Beetle actor-trainers, the characters appear in scenarios dealing with anything from change management to customer service, sales technique and appraisals. After pausing and re-winding the real life case studies, delegates take control and direct each scene to a positive conclusion.
Print
© Copyright JLA: All Rights Reserved
TOPICS
Customer Service & CRM, HR & Training, Creative Thinking, Peak Performance
SPEECH TITLES
Motivating on a shoestring
Helping ordinary people create extraordinary organisations
FEE BANDS
CONFERENCE SPEAKERS
£2.5K TO £5K
AFTER DINNER SPEAKERS
£2.5K TO £5K
YOU MAY ALSO BE INTERESTED IN...
Q&A
JLA: What for you is motivation all about?
AW: I can understand people finding inspiration to climb mountains, sail oceans and trek to the poles - fantastic! But my interest is in what motivates people in the real world to get out of bed, climb their own mountains and make a difference in their workplace, day in, day out.

JLA: How did you get into motivational speaking?
AW: Out of necessity - to get a group of ordinary people to deliver extraordinary results on shoestring budgets. During tough times I had to motivate and retain a team of 150 very diverse people. My fun motivational 'chats' and unusual delivery style proved popular and I found myself being invited to go and have 'a chat' with other companies.
Print
ALSO SEE OUR...